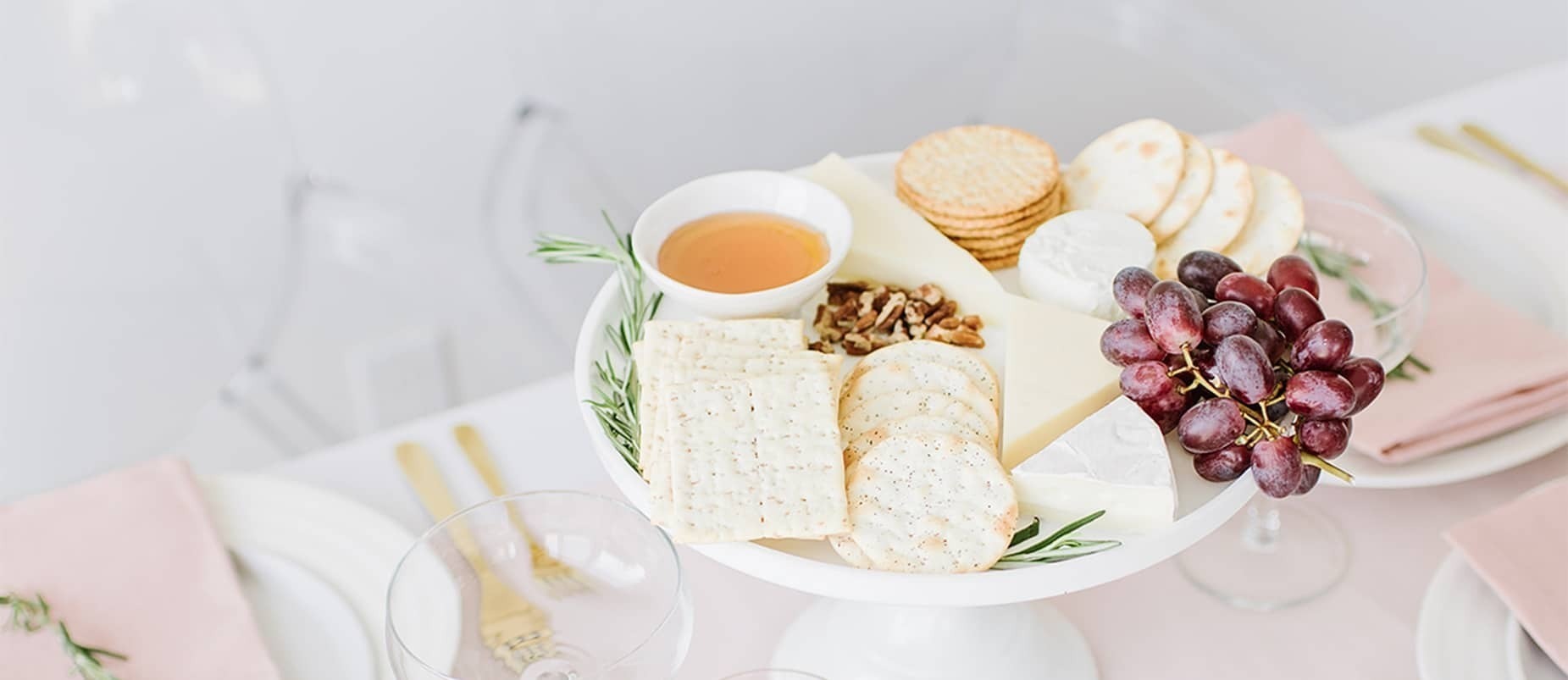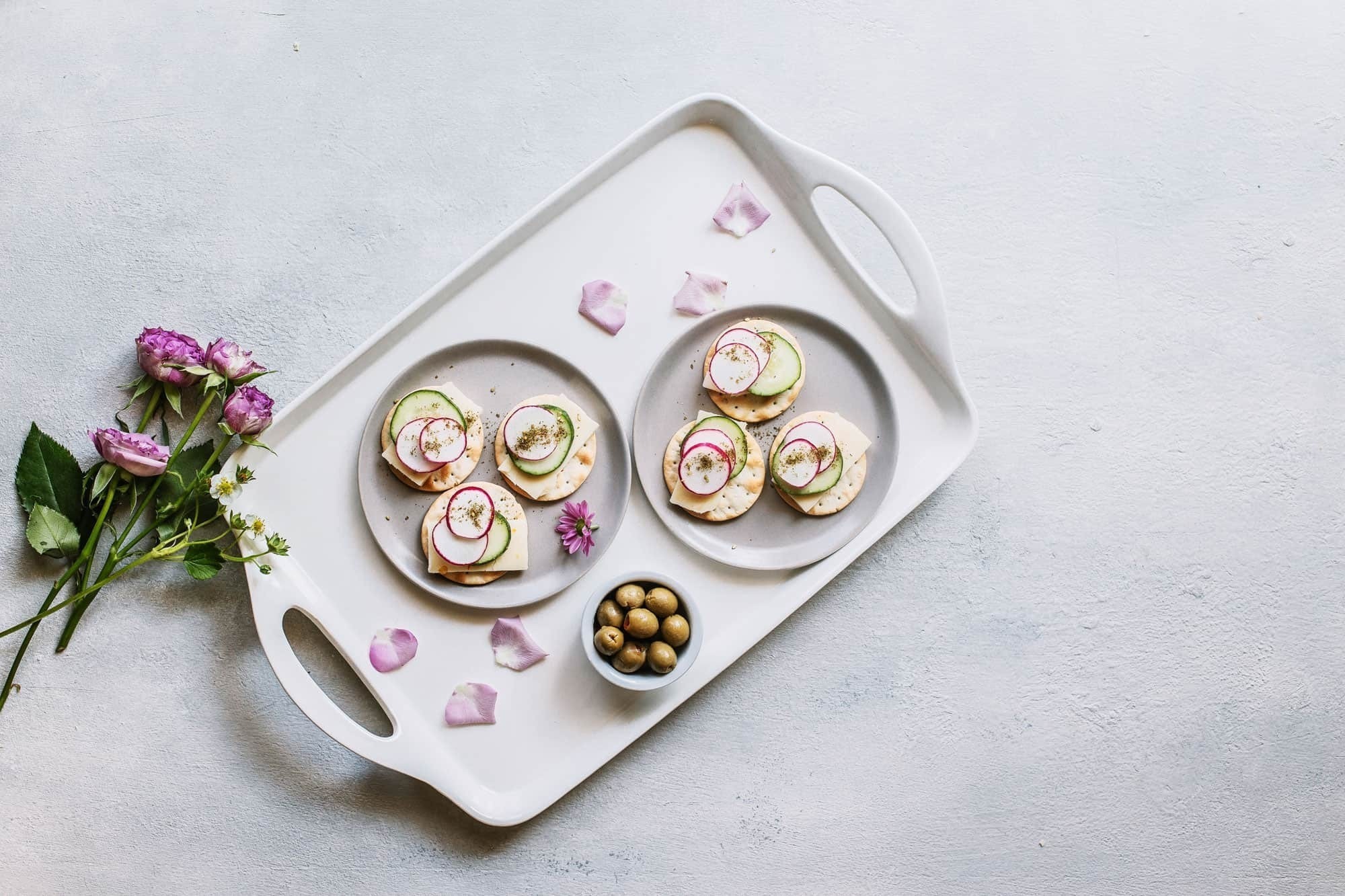 Wellington on
your Table
Ingredients
8-10 oz Goat Cheese Log
4 TBSP Olive Oil
Salt and Pepper to Taste
2 C Favorite Jarred Marinara Sauce
1 C Fresh Cherry Tomatoes, sliced in half
2 TBSP Fresh Basil, thinly sliced
Assorted Wellington Crackers for serving
Instructions
Preheat the oven to 400.
In a casserole dish, spread the marinara into an even layer. (I used a 9″ round dish)
Place the goat cheese in the center of the marinara, and use a rubber spatuala to spread it out a little. Drizzle with olive oil and salt and pepper.
Bake for 15 minute at 400.
Remove from oven, and spread the goat cheese out some more. It will be easier to spread now that it's warm.
Arrange the cherry tomatoes around the edges of the dish and drizzle everything with more olive oil and sprinkle with salt and pepper.
Bake an additional 20-25 minutes, or until tomatoes are starting to burst

By: Liz Buuck @BuuckFarmsBakery
Ingredients
10 oz grape tomatoes
1 can Reese Artichoke Hearts, drained
3 tbsp olive oil
2 tsp kosher salt, divided
3 cloves of garlic, with the skins still on
8 oz softened cream cheese
12 oz. lump crabmeat
4 oz goat cheese
1/4 cup sour cream
1/4 cup mayonnaise
1/2 cup grated asiago cheese, plus more for sprinkling
1 tbsp fresh basil, roughly chopped
Freshly ground black pepper
2 boxes Wellington Assorted Crackers, for serving
Instructions
Preheat the oven to 425° F.
Place grape tomatoes, artichoke hearts, and garlic cloves in a baking dish and drizzle with olive oil.
Sprinkle with 1 tsp salt and stir to combine. Roast for 30-35 minutes, until tomatoes are blistered and garlic is soft and caramelized. Set aside and decrease oven temperature to 400° F
In the bowl of a food processor combine cream cheese, goat cheese, sour cream, mayonnaise, grated asiago, basil, black pepper, and the remaining tablespoon of salt. Squeeze roasted garlic from its skins and add to the food processor, along with the crabmeat.
Pulse for 1-2 minutes, until everything is well-combined and cheeses are smooth.
Scoop the dip into ramekins or a baking dish and top with more grated asiago cheese. Bake for 10-15 minutes, until golden brown and the edges are bubbling. Spoon roasted tomatoes and artichokes over the top and serve immediately.
Serve with Wellington Crackers for dipping, if desired.

By: Anna Ramiz @gatheredatmytable
Ingredients
1 cup balsamic vinegar
4 ounces high-quality Gorgonzola cheese
18 Wellington Traditional Water Crackers
1 pear, thinly sliced, then cut in half crosswise
2 tablespoons honey
18 blackberries
Instructions
In a small saucepan on medium heat, reduce the balsamic vinegar until thick, to about 1/4 of its original volume. Watch carefully as it can easily burn.
Cut the Gorgonzola cheese into 18 bite-sized chunks.
Spoon a dab of balsamic onto each pita cracker. Top with Gorgonzola cheese and pear. Drizzle with honey and finish each appetizer with a blackberry.
Load more