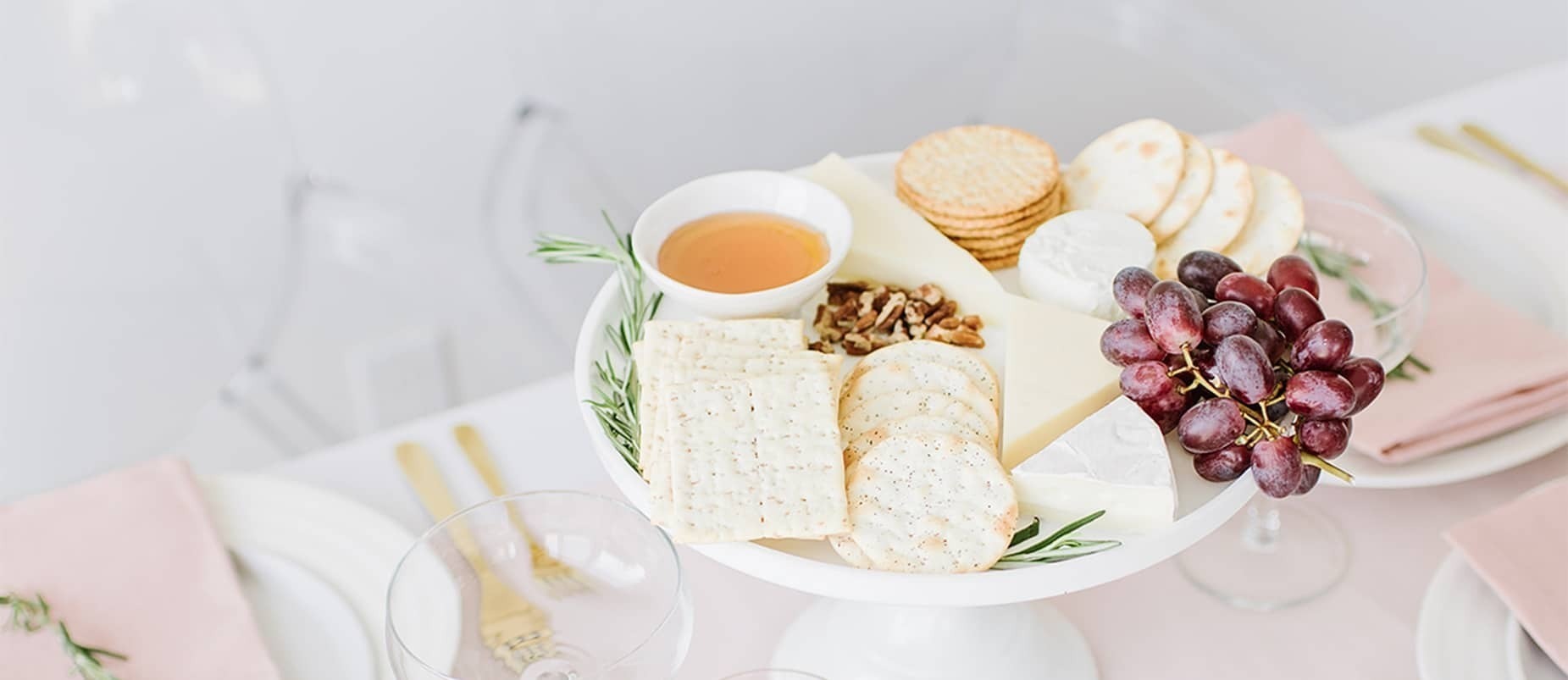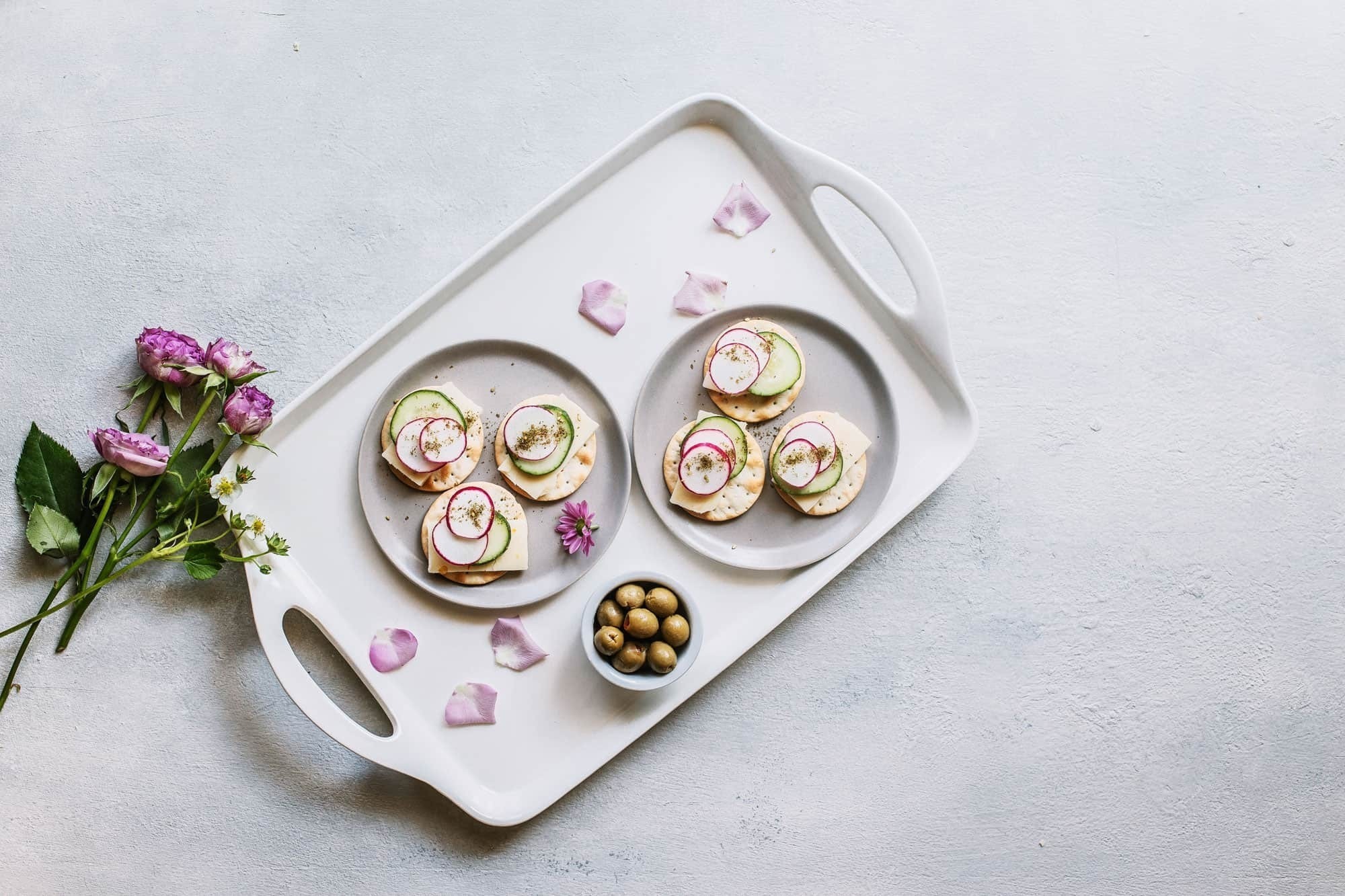 Wellington on
your Table
Ingredients
2 oz. soft cheese,
1 Tbsp. grated Parmesan cheese
3/4 tsp. mustard
1/4 tsp. garlic powder
1/4 tsp. dried oregano leaves
48 Wellington Cracked Pepper Water Crackers
8 slices of ham (5 oz.), each cut into 3 pieces
4 ultra-thin provolone cheese slices (1.5 oz.), each cut into 6 pieces
Instructions
Heat oven to 350°F.
Combine first 5 ingredients; spread onto bottoms of 24 crackers. Place, cheese sides up, in a single layer on a rimmed baking sheet sprayed with cooking spray.
Top with ham and provolone; cover with remaining crackers to make 24 sandwiches.
Bake for 8 min.
Serve warm.
Ingredients
Wellington Traditional Water Crackers
1/2 tsp salt
1 tsp. Parsley
1/2 tsp. Black Pepper
1/2 tsp. Onion Powder
1/2 tsp. Garlic Powder
2 tbsp. Worcestershire Sauce
1 tbsp. Olive Oil
1-1.5 lb. Tenderloin, cut into bite-sized pieces
Salt for cooking
8 oz. Bleu cheese
4 large Sweet Onions, sliced
2 tbsp. Butter
1 tbsp. Olive Oil
Instructions
For the Marinade: In a bowl, add cubed steak bites, salt, parsley, black pepper, onion powder, garlic powder, Worcestershire sauce and olive oil.
Mix to cover steak and cover with plastic wrap. Marinate for up to one hour.
For the Caramelized Onions: Slice 4 sweet onions and set aside.
Add butter and olive oil to a heavy bottom skillet and add sliced onions.
Allow the onions to cook on high for about 3-4 minutes before reducing the heat to medium.
Stir the onions about every 5 minutes until completely caramelized. This can take a while (30-40 minutes), but it's so very worth the wait.
For the Steak Bites: Into a very hot cast iron pan, add a teaspoon of salt. No oil or liquid.
Add marinated steak bites to pan and cook for 3 minutes on each side or until crust forms. Do not move them around the pan. Simply let them sear. Once both sides have been seared, toss them around the pan for a minute to cook all sides. (The time depends on the size of your bites.)
Once done, remove from heat and add the next batch. Do not crowd your pan or the meat will steam, not brown. You want that nice sear on both sides. We like our steak rare, so adjust your time for desired doneness.
To Assemble: Take the Wellington Traditional Water Crackers, place all steak bites on top.
Add a tablespoon of the caramelized onions.
Add about a teaspoon or so of the bleu cheese.
Serve immediately. Enjoy!
Ingredients
6 Wellington Cracked Pepper Crackers
3 Plum tomatoes, halved
Mozzarella cheese slices, cut into square quarters
Balsamic glaze
Fresh basil
12 mozzarella cheese pearls
Instructions
Preheat oven to 350 degrees.
Arrange the crackers onto a baking pan and top each cracker with a quarter slice of mozzarella cheese.
Place into oven for 1-3 minutes or until edges of cheese melt over crackers.
Remove from oven and top each cracker with a dime-sized dollop of balsamic glaze.
Arrange half of a plum tomato, two mozzarella pearls and some fresh basil on each cracker.
Serve immediately.
Load more