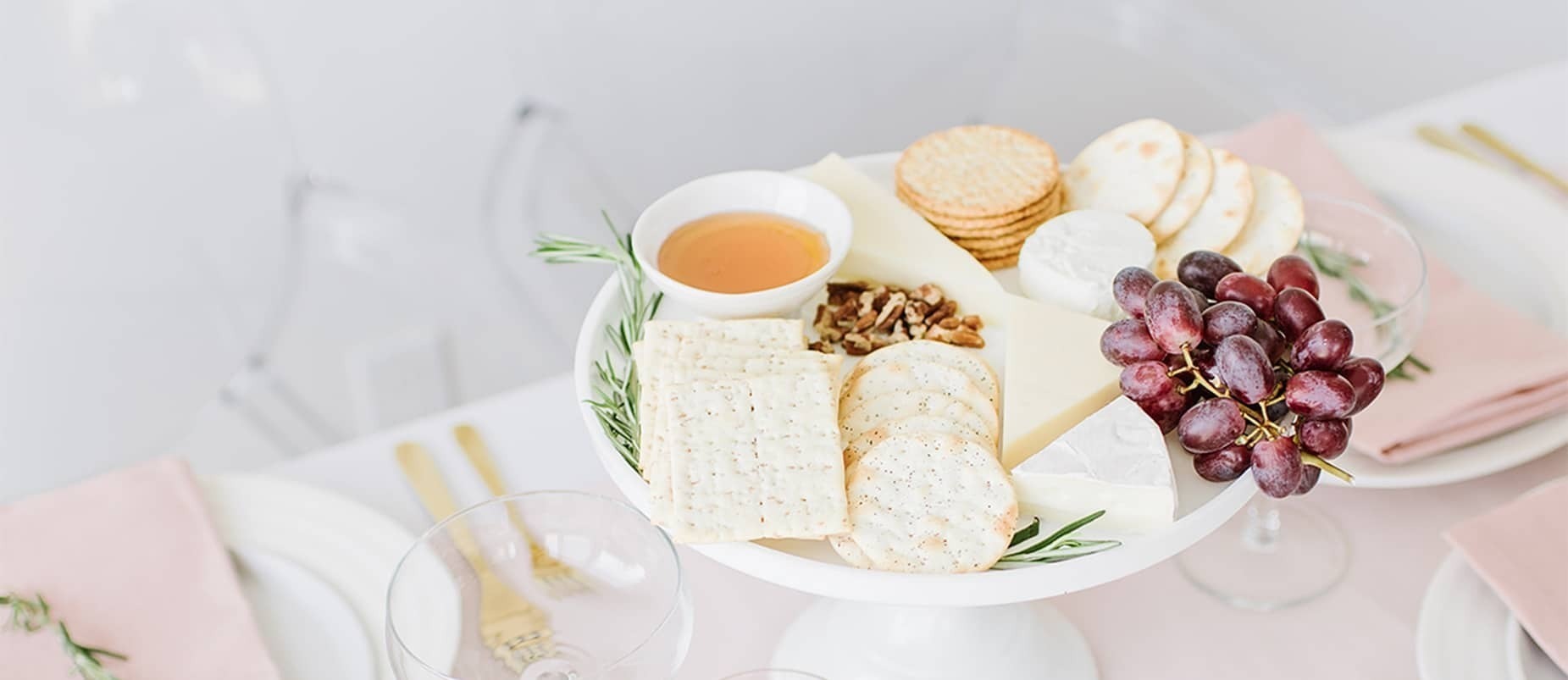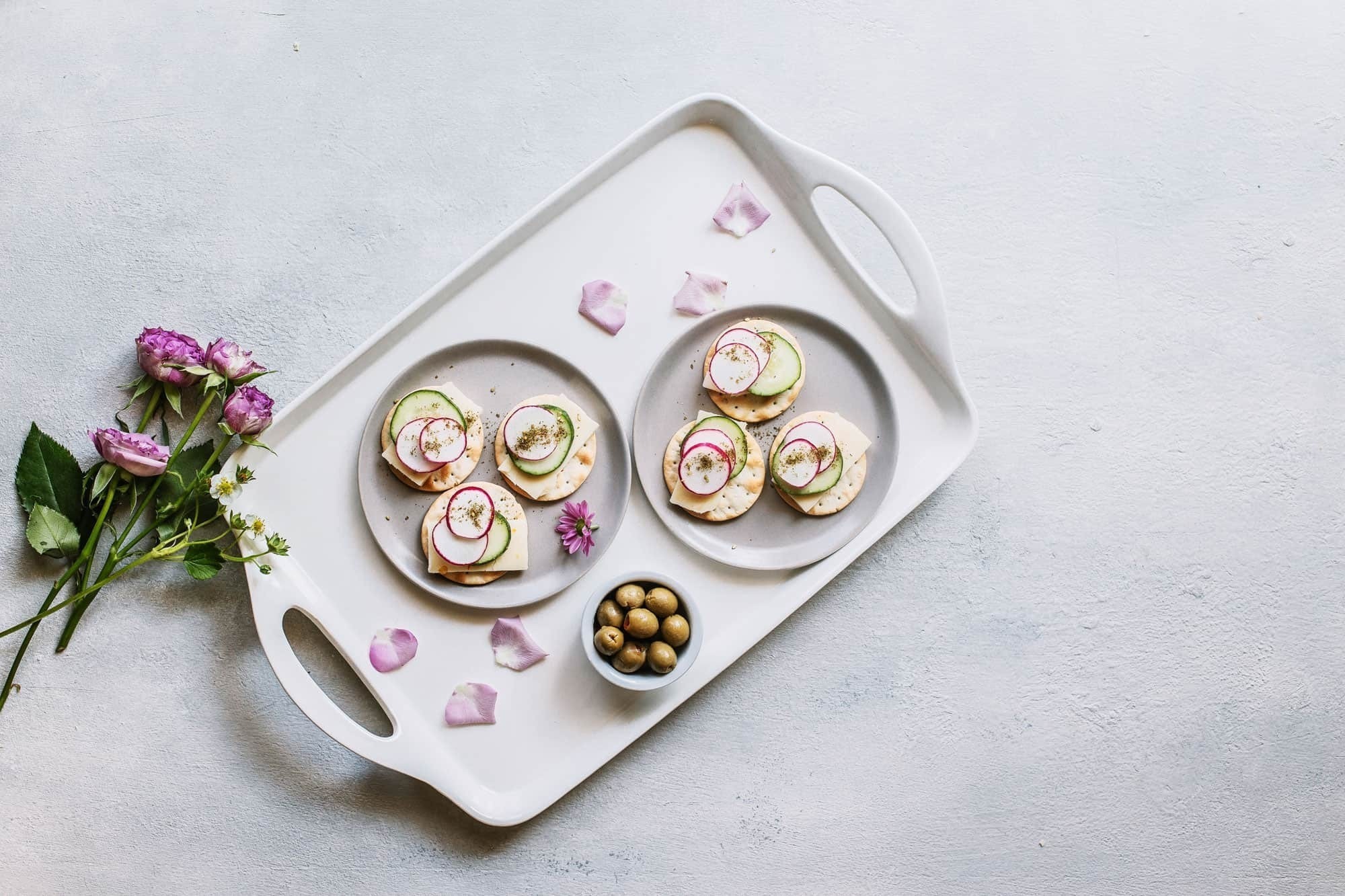 Wellington on
your Table
Ingredients
2 Tbsp. butter
1/4 cup onion, finely diced
1 garlic clove, finely chopped
1/4 tsp. kosher salt
1/4 tsp black pepper
2 Tbsp. flour
1/2 cup whole milk
3/4 cup amber ale
3 cups sharp cheddar
Instructions
Melt butter over medium heat in a medium-sized sauce pan
Caramelize onions in the butter, 3-4 minutes. Add garlic, salt, and pepper.
Whisk in flour to make a roux. Cook 2 minutes and add milk.
Whisk until smooth, add beer, and whisk again until smooth. Turn off the heat and add cheese.
Stir until melted. Serve warm with Wellington Crackers, bread, sausages, and veggies.
Ingredients
4 ounces Neufchâtel cream cheese room temperature
1/2 cup Greek yogurt
1/4 cup Parmesan-Reggiano cheese
1/4 cup Parmesan-Reggiano cheese
Zest of one lemon
Salt and pepper to taste
4 Oz can fire roasted jalapeños
12 ounces frozen artichokes, thawed and chopped to bite size pieces
Half a cup of fresh spinach chopped
4 Oz mozzarella, pepper jack or Monterey Jack cheese shredded
2 Oz of feta
Instructions
Preheat the oven to 375 degrees.
In a bowl mix together the softened cream cheese, Greek yogurt, jalapeños, lemon zest, and garlic cloves. Add the Parmesan and mozzarella cheese.
Season with salt and pepper to taste.
Add the spinach and chopped artichoke hearts to the cheese mixture.
Transfer the mixture to a baking dish and top with the feta cheese and more cheese if you wish.
Bake until the cheese is bubbling and starting to get some color 20-30 minutes.
Serve hot with your favorite @Wellingtoncrackers and veggies.
Ingredients
6 Cups Chicken Or Vegetable Broth
1 Diced Red Bell Pepper (6-7 Ounces)
1 Diced Onion (6-7 Ounces)
Red Potatoes (6-7 Ounces Cubed)
2 Cloves Garlic (halved lengthways)
½ Cup Heavy Cream
4 Tablespoons Flour
4 Tablespoons Oil Or Butter (For Sautéing)
5 Ounce Can Clams In Water (Use Clams and Water)
5 Ounces Smoked Salmon (Shredded)
1 Tablespoon Fresh Thyme Leaves (Removed From Stem)
Cracked Pepper and Salt As Needed To Your Taste
Instructions
In a medium sized pot sauté the garlic, onions and red bell pepper in oil until golden brown.
Next add the broth to the pot, and use an immersion blender. Blending until only small chunks of onion and bell pepper remain. If you don't have an immersion blender, you can pour the contents of the pot into your stand blender and accomplish the same task.
Retain a cup of the mixture to create your roux that will thicken the soup. The oil used to sauté the vegetables and the natural fats in the broth will be enough to create a roux without additional oil. Combine with 4 tablespoons flour, using a fork or whisk to remove any clumps.
Bring the pot to a slow boil, and pour the prepared roux into the pot while whisking, to prevent clumps and properly combine.
Add the potatoes to the pot and cook until soft.
At the very last add the fresh thyme, heavy cream, clams and salmon. Cook an additional 3-5 Minutes to heat the cream and infuse the flavors of the soup.
Top with parmesan cheese and Wellington crackers
Load more