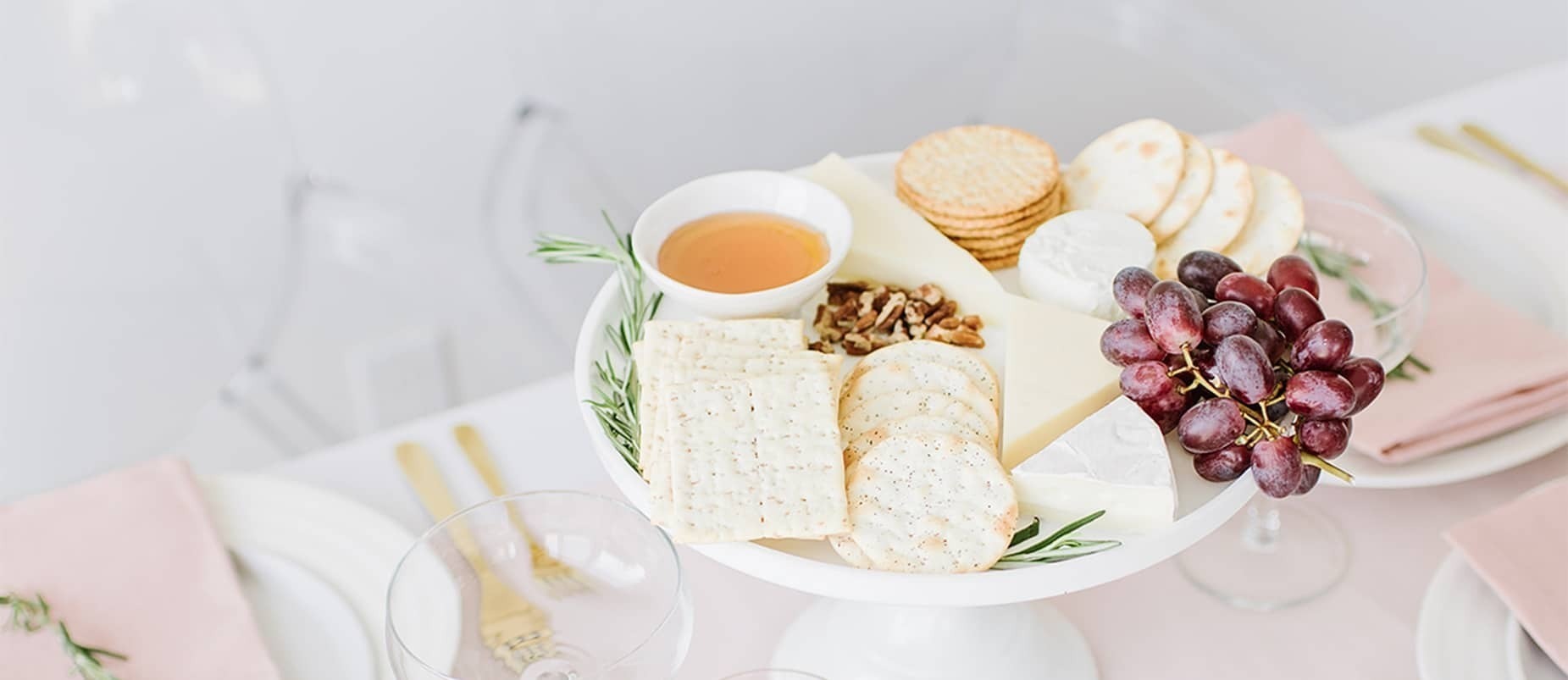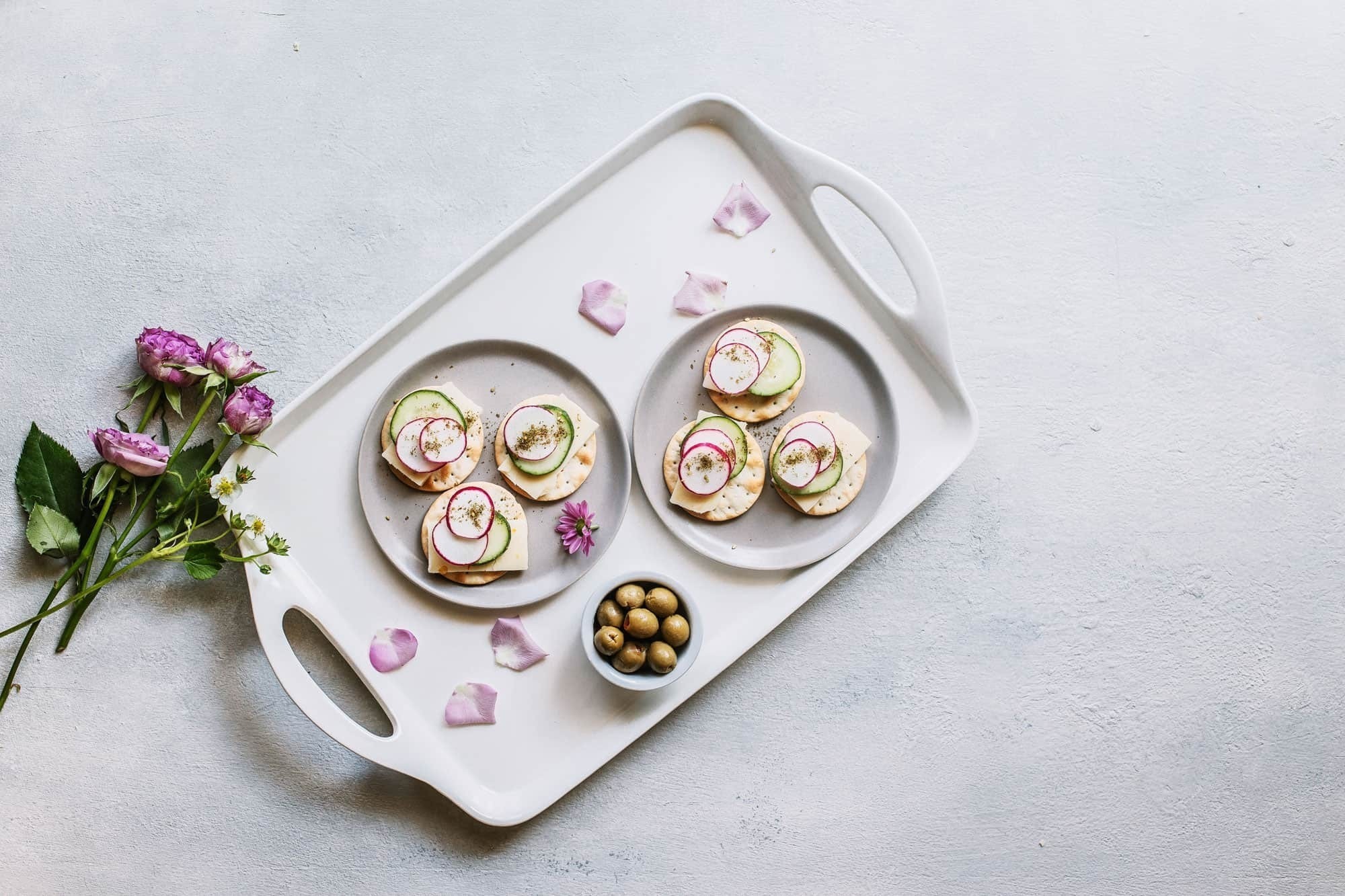 Wellington on
your Table
Ingredients
3 C Fresh Strawberries, diced
5 Fresh Figs, halved or quartered
¼ C Granulated Sugar
Zest of 1 Lemon + 1 TBSP Lemon Juice
2 TBSP Honey + Extra fro drizzling
2 4-5 oz of Feta
¼ C Fresh Basil
Salt and Pepper to Taste
1 Box Wellington Assorted Crackers
Instructions
Preheat the oven to 375.
In a cast iron skillet or 9X9 baking dish toss the strawberries, figs, sugar, lemon zest, lemon juice, and honey. Scoot the fruit to the outer edges and place the feta blocks in the center.
Drizzle the feta with extra honey and season with salt and pepper.
Bake for 30-35 minutes, or until fruit is soft and feta is just beginning to brown.
Top with fresh basil and flaky salt.
Serve with Wellington Assorted Crackers.
Ingredients
1 can black beans, rinsed and thoroughly drained
1 c mango, (about 1 large mango or 2 small)
8 oz lump crab meat
½ pint cherry tomatoes, quartered
3 green onions, thinly sliced
1 c loosely packed chopped cilantro
2 tbsp lime juice, about 2 limes, juiced
1 tbsp lime zest, from 1 lime
1 tbsp extra virgin olive oil
½ tsp sea or kosher salt
½ tsp cracked black pepper
Wellington Traditional Crackers, for serving
Instructions
Place the black beans, mango, crab meat, cherry tomatoes, green onions, and cilantro in a large bowl. Toss to combine.
Zest one lime over the salsa, then juice and add the juice to the salsa. Juice a second lime and add to the salsa.
Add the extra virgin olive oil, salt, and pepper to the salsa. Toss to combine and serve immediately with tortilla chips. Store in the fridge in a tightly sealed container for up to three days.
Ingredients
2 Boxes Wellington Toasted Sesame Water Crackers
For the Strawberry Hazelnut
1 Pint Fresh Strawberries
1/4 C Chocolate Hazelnut Spread
For the Peach White Cheddar
2 Fresh Peaches, sliced thin
8 Slices White Cheddar Cheese
Honey for drizzling
Pepper to taste
For the "Avocado Toast"
4 oz Cream Cheese, softened
1 Avocado, sliced thin
Everything but the Bagel Seasoning
For the "Bagels and Lox"
4 oz Cream Cheese, softened
2 Mini Cucumbers, sliced into ribbons
4 oz Smoked Salmon
Fresh Dill
Instructions
For the Strawberry Hazelnut: Spread 1-2 tsp of the chocolate hazelnut spread on the crackers and top with 2 slices of strawberry.
For the Peach White Cheddar: Slice the cheese into squares roughly the same size as the crackers. Layer the cheese and peaches on the crackers and drizzle with honey and fresh cracked pepper.
For the "Avocado Toast": Spread 1-2 tsp cream cheese on each cracker and then top with sliced avocado and everything but the bagel seasoning.
In a separate bowl, stir together the parm, crushed crackers, and Italian seasoning. Sprinkle over the veggies.
For the "Bagels and Lox": Spread 1-2 tsp cream cheese on each cracker, then layer on the cucumber and smoked salmon. Top with fresh dill springs.
Load more