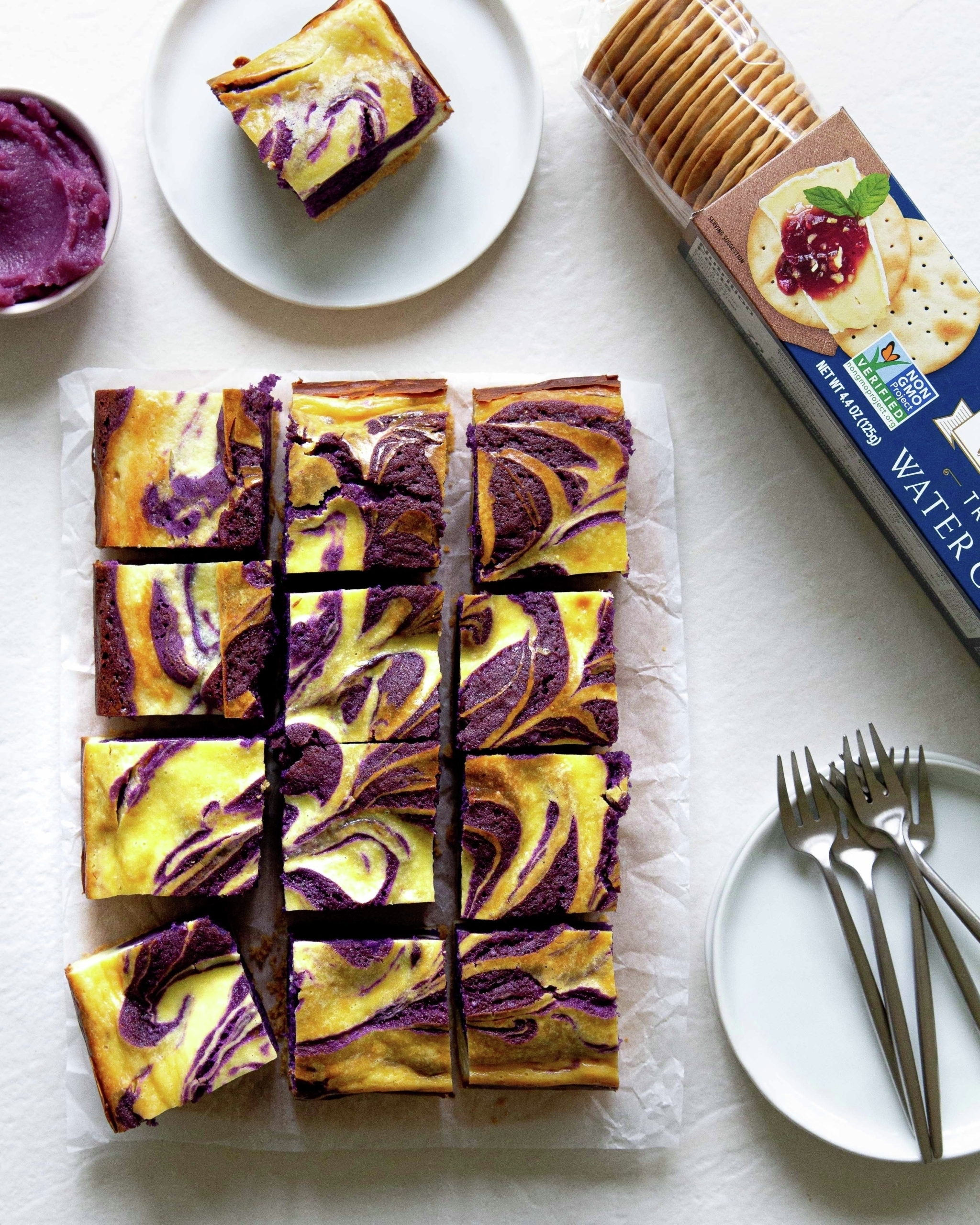 Ube Cheesecake Bars
Takes , serves 4.
Ingredients
Cracker Crust:
1 sleeve Wellington Traditional Water Crackers
1/4 cup Sugar
7 tbsp unsalted butter, melted
Cheesecake:
16 oz cream cheese, softened, room temperature
6 tbsp sugar
3 large eggs
1 tsp vanilla extract
Ube Cake:
8 tbsp unsalted butter, melted
3/4 cup sugar
2 large eggs
1/4 cup ube jam
1 tbsp ube extract
1 1/4 cups all-purpose flour
1 tsp baking powder
1/2 tsp salt
Instructions
First make the cracker crust. Preheat the oven to 350°F. Add the sleeve of Wellington Traditional Water Crackers to a food processor along with sugar then pulse until it's a sand-like consistency. While running the food processor on low, drizzle in the melted butter until combined and in a wet sand-like texture.
Line a 9×9 baking pan with parchment paper, making sure there is overhang, then add the cracker crust mixture. Spread evenly, pressing down gently then bake at 350°F for 10 minutes. Remove from the oven and allow to cool while making the cheesecake and ube cake mixture.
In a large mixing bowl, mix together the softened cream cheese and sugar. It's best to use an electric mixer for this. Next, add the eggs one at a time, mixing in between each time. Lastly add the vanilla extract, mix once more then scrape down the sides and bottom of the bowl using a spatula and mix until lump free. Cover and set aside on the kitchen counter.
To make the ube cake mixture, get a second large mixing bowl and cream together the melted butter and sugar. Next, mix in the eggs, one at a time then add the ube jam and ube extract. Mix until well combined. Next, sift in the flour, baking powder and salt. Mix on low until combined but do not over mix.
Pour about half of the cheesecake mixture over the baked and cooled cracker crust layer, then add about 3/4 of the ube cake mixture. Spread out evenly using a spatula. Next, add the remaining cheesecake mixture, spread out evenly then add the remaining ube cake mixture. Now get a knife or wooden skewer and drag it across the top layer to create a marble effect.
Bake at 350°F for 35-40 minutes or until set. Allow to cool completely before removing from the baking pan, slicing and serving.