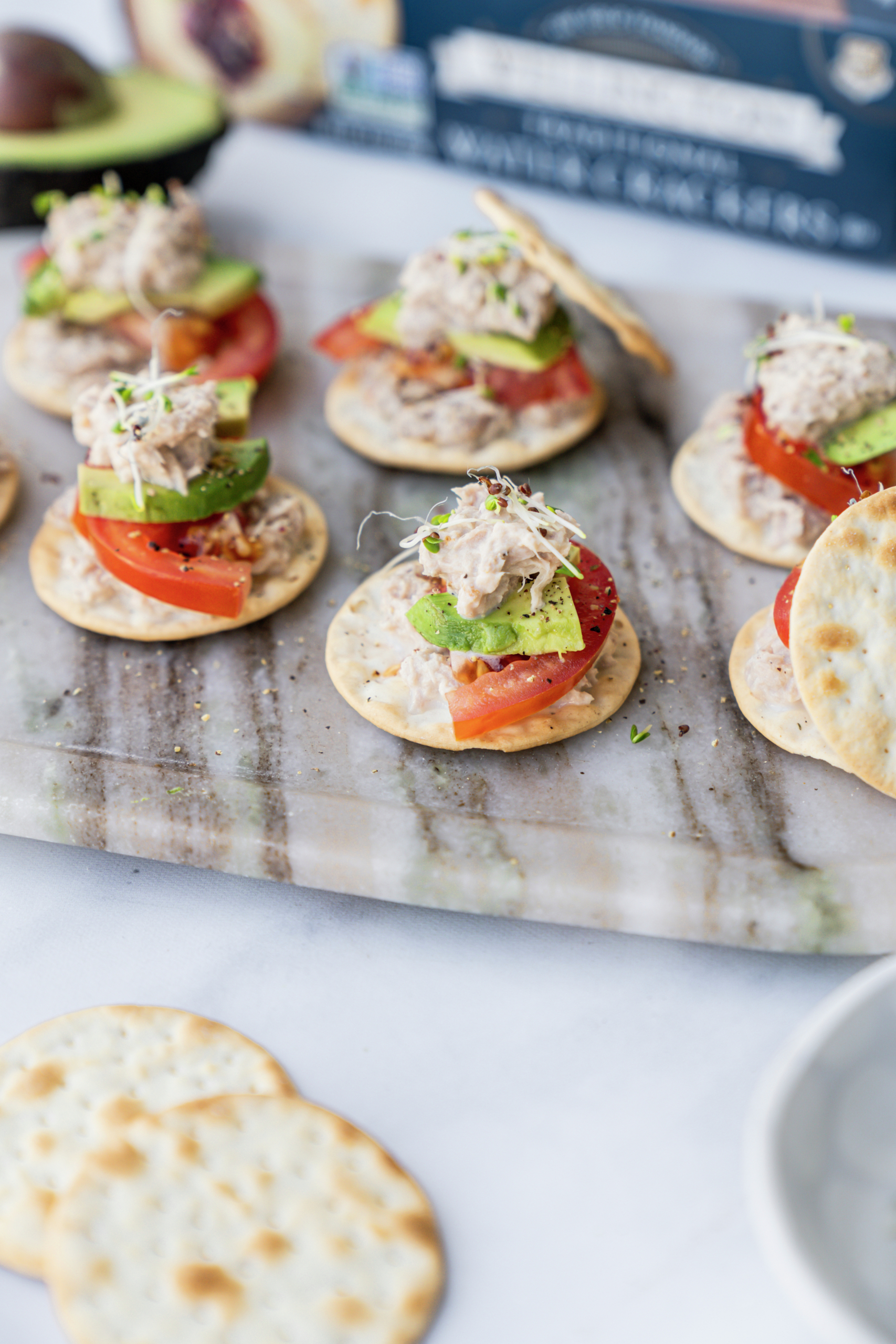 Tunacado Crackers
Takes , serves 4.
Ingredients
For the Spicy Pesto Aioli
1/4 cup pesto
1/4 cup mayonnaise
1 tbsp chili crunch
1 tsp honey
1/2 tbsp lemon juice
Fine salt and ground black pepper, to taste
For the Cracker Sandwich
1 box Wellington Traditional Water Crackers
5 oz canned tuna, drained
3 tbsp mayonnaise
1 1/2 tsp dijon mustard
1 tbsp lemon zest (from 1 lemon)
1 1/2 tsp lemon juice
2 cloves garlic
1 tbsp drained capers
2 tsp anchovy paste
1 tbsp dried dill
1/4 cup diced red onion
1/4 tsp fine salt, more to taste
1/4 tsp ground black pepper
4 slices tomato
1 large ripe avocado, sliced
Instructions
In a small bowl, stir together the pesto, mayonnaise, chili crunch, honey, and lemon juice. Season to taste with salt and pepper. Set aside until it's time to assemble the crackers.
Place the tuna, mayonnaise, mustard, lemon zest and juice, garlic cloves, capers, anchovy, and dill in the bowl of a food processor. Pulse on high until smooth and an almost "whipped" consistency is achieved, stopping as needed to scrape down the sides of the food processor, about 1 minute.
Stir in the chopped onions, salt, and pepper. Adjust the seasoning as desired.
To assemble the crackers, spread the spicy pesto aioli across the bottom of one of the Wellington Traditional Water Crackers. Spoon the tuna mixture on top of the aioli. Then layer each tuna-topped piece with 2 slices of tomato and as much avocado as desired. Add another Wellington Traditional Water Cracker on top and enjoy!