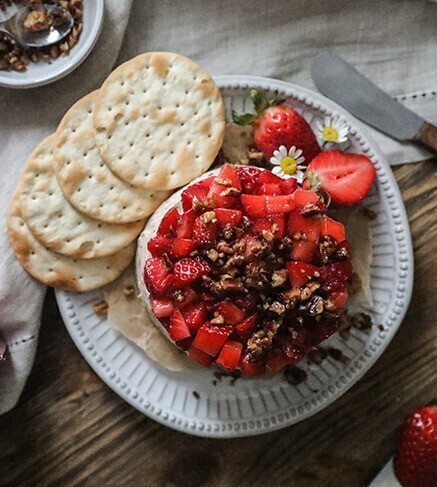 Strawberry Pecan Blue Cheese Ball
Takes , serves 2.
Ingredients
1 Tablespoon Butter Or Oil
1/3 Cup Pecans Chopped
3 Tablespoons Brown Sugar Not Packed
1/2 Cup Balsamic Vinegar
4 Tablespoons Brown Sugar
(1) 8 ounce Package Cream Cheese
1 Teaspoon Prepared Balsamic Glaze (make sure its fully cooled before adding)
1/4 Cup Blue Cheese Crumbles
1 Tablespoon Powdered Sugar
1/4 Cup Prepared Candied Pecans. Hold any remainder for garnish.
1/4 Cup Fresh Strawberries Diced
Instructions
Candy the Pecans
Melt the butter in a skillet over medium heat. Then add your chopped pecans and sugar. Toast until they begin to darken slightly then remove from heat.
For the Balsamic Glaze
In a saucepan combine the sugar and balsamic vinegar. Place over medium heat and reduce to a syrup. This should take about 10 minutes. Stir occasionally throughout the cooking process to prevent burning. Keep in mind the glaze will thicken slightly when cooled. Pour into a container with a lid for storage while still warm.
Make the Cheese Ball
Using a hand or stand mixer, beat the cream cheese balsamic glaze and powdered sugar until smooth. Using a spatula, gently fold in the pecans, and blue cheese crumbles. Form your cheese into a ball and place it into the refrigerator to set for an hour.
Top with fresh strawberries and a drizzle of balsamic glaze before serving. Enjoy!