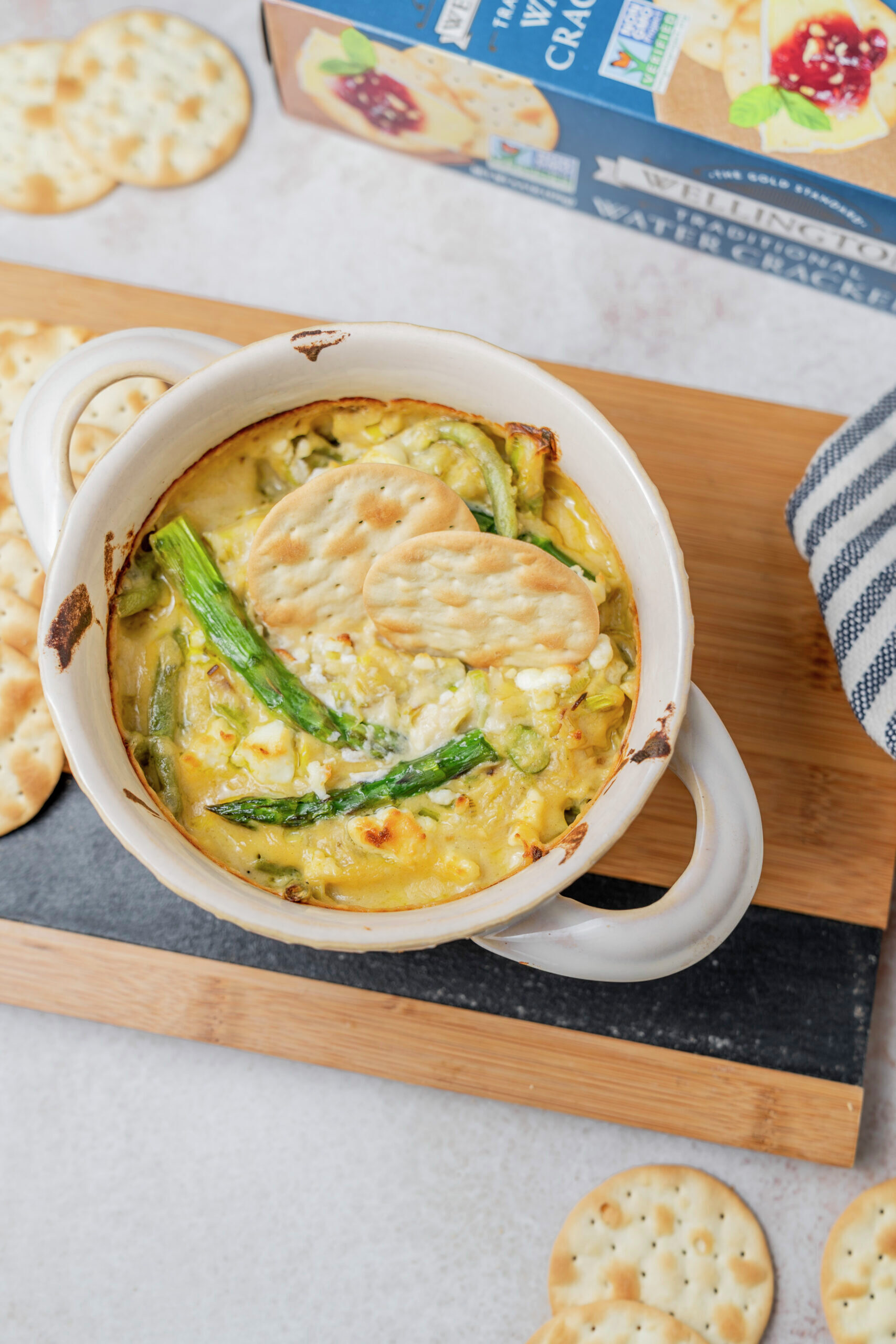 Spring Veggie Dip
Takes , serves 2.
Ingredients
1 cup 3/4"-inch pieces asparagus
2 tablespoons unsalted butter
1 cup chopped leeks (white and pale-green parts only)
2 tablespoons all-purpose flour
1 1/4 cups whole milk
1 cup grated mild white cheddar
Kosher salt and freshly ground black pepper
1 14-ounce can chopped artichoke hearts in water, drained
1/4 cup fresh (or frozen, thawed) peas
2 tablespoons chopped fresh chives
2 tablespoons chopped fresh mint
2 tablespoons chopped fresh flat-leaf parsley
1/2 teaspoon finely grated lemon zest
4 ounces crumbled fresh goat cheese, divided
Wellington Traditional Water Crackers for serving
Instructions
Preheat the oven to 450°F. Cook asparagus in a large pot of boiling salted water until crisp-tender, about 2 minutes. Drain; let cool.
Melt butter in a medium saucepan over medium heat. Add leeks and cook, stirring often, until soft, about 10 minutes. Whisk in flour; gradually whisk in milk. Bring to a simmer, whisking constantly. Cook, whisking occasionally, until thickened; remove from heat. Add cheddar; whisk until cheese is melted and mixture is smooth. Season to taste with kosher salt and freshly ground black pepper. Fold in asparagus (reserve tips), artichoke hearts, peas, chives, mint, flat-leaf parsley, zest and 2 ounces crumbled fresh goat cheese.
Transfer mixture to a 4-5-cup baking dish; arrange asparagus tips on top and dot with another 2 ounces goat cheese. Bake until golden brown and bubbling, 15-20 minutes. Let rest for 5 minutes before serving.
Serve with Wellington Traditional Water Crackers.