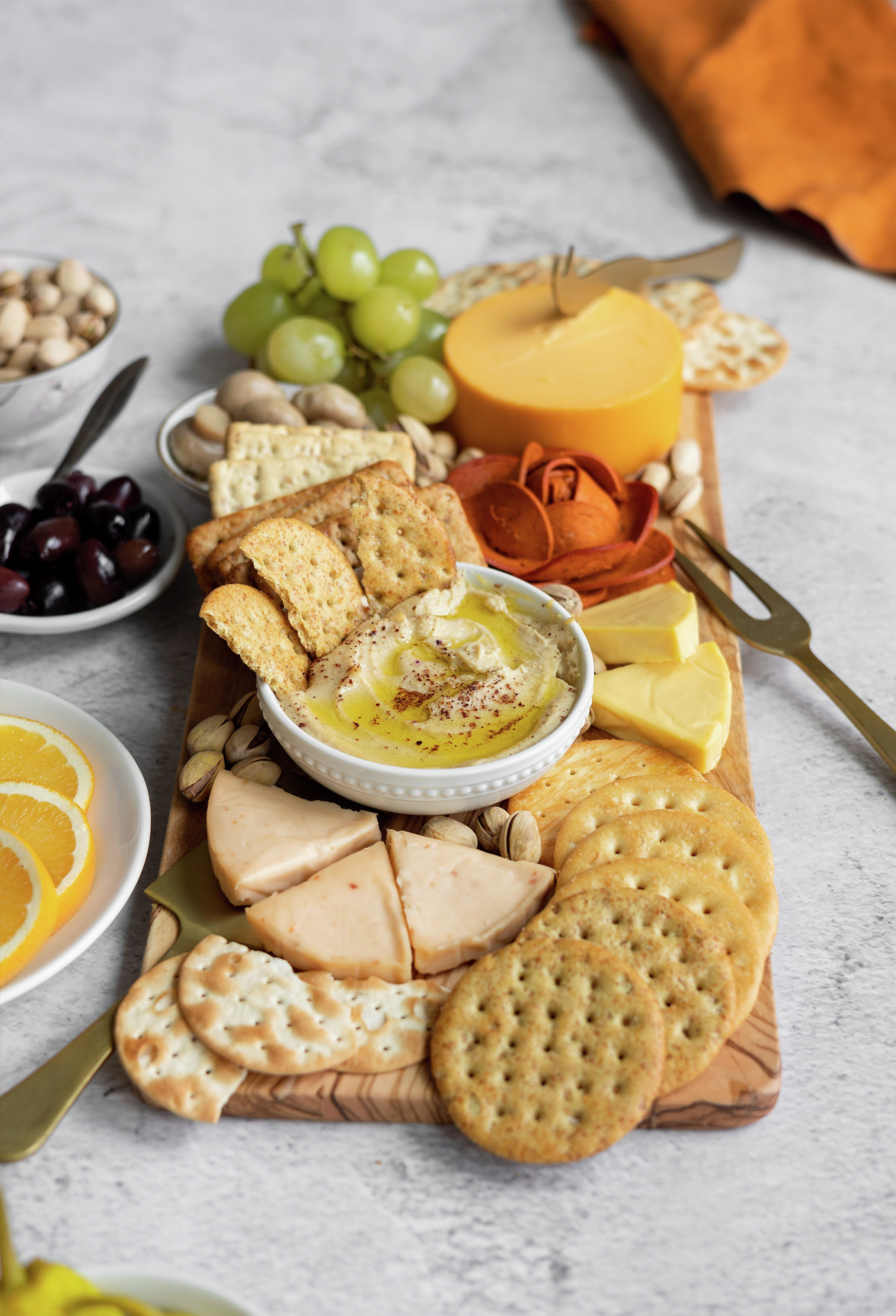 Plant-Based Charcuterie Board
Takes , serves 2.
Ingredients
FOR DIPPING
1-2 packs of Wellington's Assorted Crackers
Optional: fresh veggies of choice (Carrots, Cucumber, Radishes)
SALTY (choose 2-3)
Olives
Olive Tapenade
Salted Roasted Nuts (Cashews, Pistachios, Almonds, Pecans)
Antipasti (pickled or marinated Mushrooms, Artichokes, Paprika, etc)
SWEET (choose 2-3)
Grapes
Dates
Other fresh fruit of choice (Oranges, Strawberries, Blackberries, Green Apple, Peaches)
Candied Nuts
SAVORY (choose 1-2)
Vegan Cheese Wheel (Gouda or Cheddar)
Vegan Cheese Triangles
Vegan Mozzarella
Vegan Herbed Cheese Balls
SPICY (choose 1-2)
Vegan Pepperoni
Pepperoncini, or other pickled spicy Antipasti
Spicy Seasoned Nuts
Instructions
Start by making your selections from each section (salty, sweet, savory, spicy, and for dipping). Once planned, you can purchase them at your local grocery store.
Then start to prepare any homemade dips or treats and set aside.
Once you've gathered and prepared your components, it's time to assemble! Grab a wooden tray or cutting board (or a parchment-lined baking sheet). You want it to be big enough to fit everything but small enough that your snacks look abundant, not sparse.
Place your snacks on the board in order from largest to smallest. Start with any bowls or dishes for snacks (like olives and hummus) and space them out on the board so you can place smaller snacks in between. Then fill in the extra space with "loose" snacks, like veggies and crackers. Our favorite trick is to place stackable snacks (like cucumbers and vegan pepperoni) in curves or around the dishes. All that's left is to get your snack on!
Recipe Creator: @thesimplesprinkle