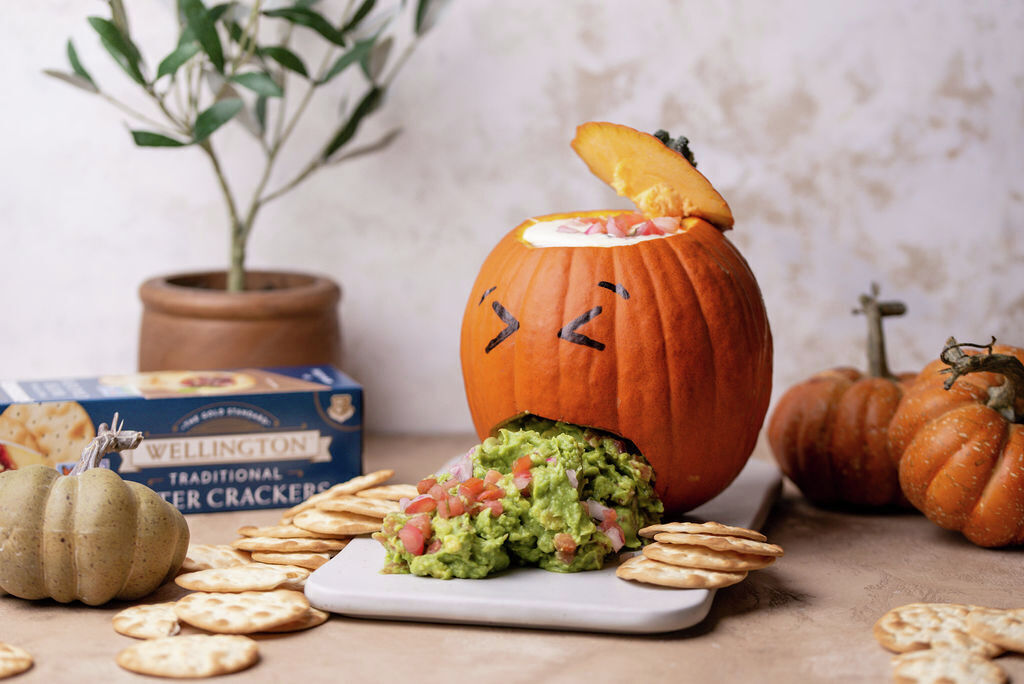 Jack-O-Lantern Guacamole
Takes , serves 4.
Ingredients
1 Mini Pumpkin
4 Large Hass Avocados, diced
1 Large Tomato, diced
¼ C Red Onion, diced
1 Jalapeño, seeded and diced
Salt and Pepper to Taste
Juice of 1 Lime
2 TBSP minced Cilantro *optional
1 C Store Bought Queso
2 Boxes Wellington Traditional Water Crackers
Instructions
Slice the top off of the pumpkin, and then carve out a space large enough for your bowl of queso to fit in snugly. Use the bowl to measure and carve a little at a time until you get to the right size. Cut out a hole for the mouth.
In a large bowl, combine the avocados, tomato, red onion, jalapeno, salt and pepper, and lime juice, Once combined, stir in the cilantro.
Place the pumpkin on a serving board and then spoon the guac into the hole you cut out for the mouth, letting some spill out onto the board.
Heat up the queso then slide the bowl into the hole you cut out of the top.
Serve with Wellington Traditional Water Crackers.