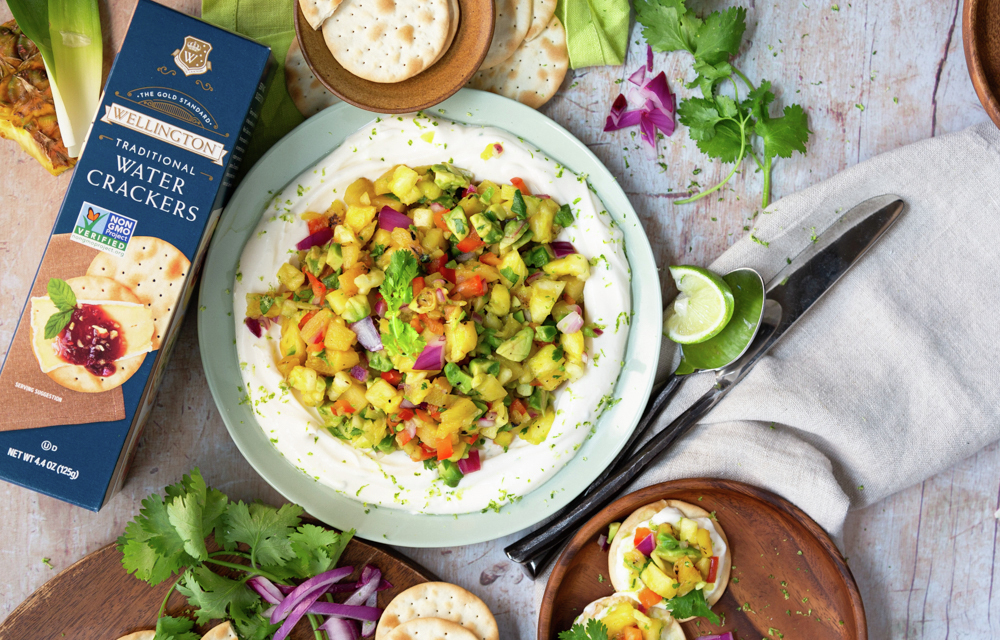 Grilled Pineapple Salsa with Zesty Lime Crema
Takes , serves 9.
Ingredients
FOR THE SALSA
1 fresh pineapple cut into 1/2 inch steak sized slices
1 cup red bell pepper chopped (1 large)
1/2 cup avocado chopped (1 medium)
1/2 cup red onion diced
1/4 cup fresh jalapeños or peppers of your choice diced (about 2) or taste
1/4 cup fresh cilantro chopped
1/4 cup fresh lime juice (about 2 limes)
Salt to taste
FOR THE CREMA
15 oz Crema Mexicana (1 jar) or Sour Cream
1 tbsp zest of 2 limes
Instructions
FOR THE PINEAPPLE
Break down and slice the pineapple into 1/2 inch steak sized pieces, grill until starting to soften and color with grill marks. Remove when still tender-crisp. Cool the chop into medium dice.
Chop the rest of the salsa ingredients. A finer dice on the jalapeno and onion makes for a nicer texture.
Juice the limes, saving a final squeeze for plating. **ZEST the limes first, setting aside the zest for the crema. Save a final section of lime peel to zest at the very end when plating.
Combine the salsa ingredients with the lime juice, and a pinch of salt to taste.

FOR THE CREMA
Combine the crema with the lime zest.

ASSEMBLY
Serve in separate bowls, or on a serving platter by spreading the crema, then top with the salsa. Add a final zest and a squeeze of lime juice over the top. Serve with Wellington Crackers and enjoy!