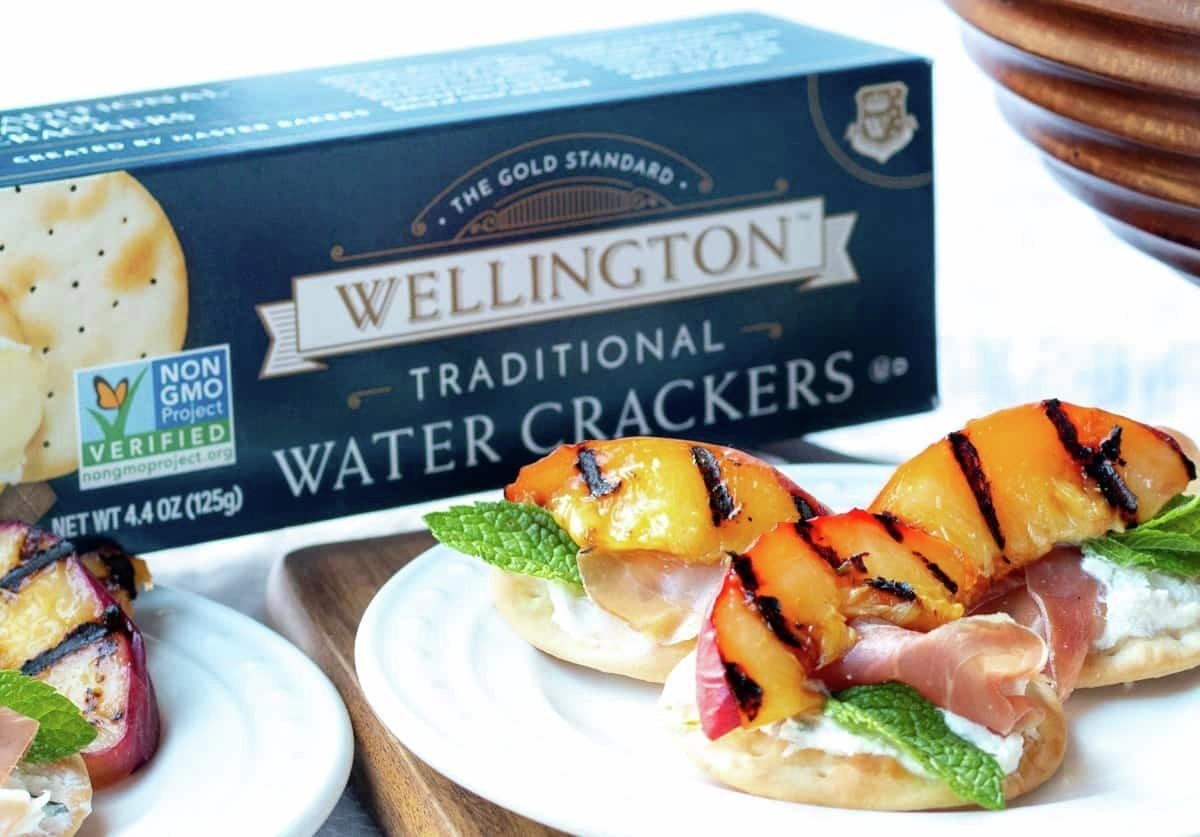 Grilled Peaches with Prosciutto
Takes , serves 4.
Ingredients
1 box of Wellington Traditional Water Crackers
6 oz. thinly sliced prosciutto
4-6 medium peaches, depending on size
1 bunch mint leaves (enough for 2 tsp chopped and 30 small sprigs for each cracker)
8 oz. soft cheese (ricotta, goat cheese, cream cheese)
2 tsp honey
Pinch of cayenne pepper (optional)
Vegetable oil for grill grates to prevent sticking
Instructions
For the cheese spread:
Mix the soft cheese, honey, chopped mint and cayenne in a bowl and set aside. This can be made a day in advance and refrigerated.
* Try mixing 1/2 goat cheese with 1/2 ricotta or cream cheese!
For the prosciutto and mint:
Slice prosciutto into serving sizes for each cracker and snip mint leaves into 1/2 inch pieces to garnish each cracker. Set aside.
For the peaches:
Heat grill to medium-high.
Slice each peach into 8-12 wedges (depending on size).
Carefully wipe grill grates with light coating of vegetable oil to prevent peaches from sticking. (Fold up paper towel into a tight bundle, using tongs dip it in oil, then rub on grill grates)
Grill peach slices, leaving undisturbed to create sear marks and some caramelization– about 2 minutes depending on the temperature.
To assemble:
Spread each cracker with 1 teaspoon cheese mixture, top with prosciutto, then a peach slice and lastly a sprig of mint.

By: Sara @afoodloverslife