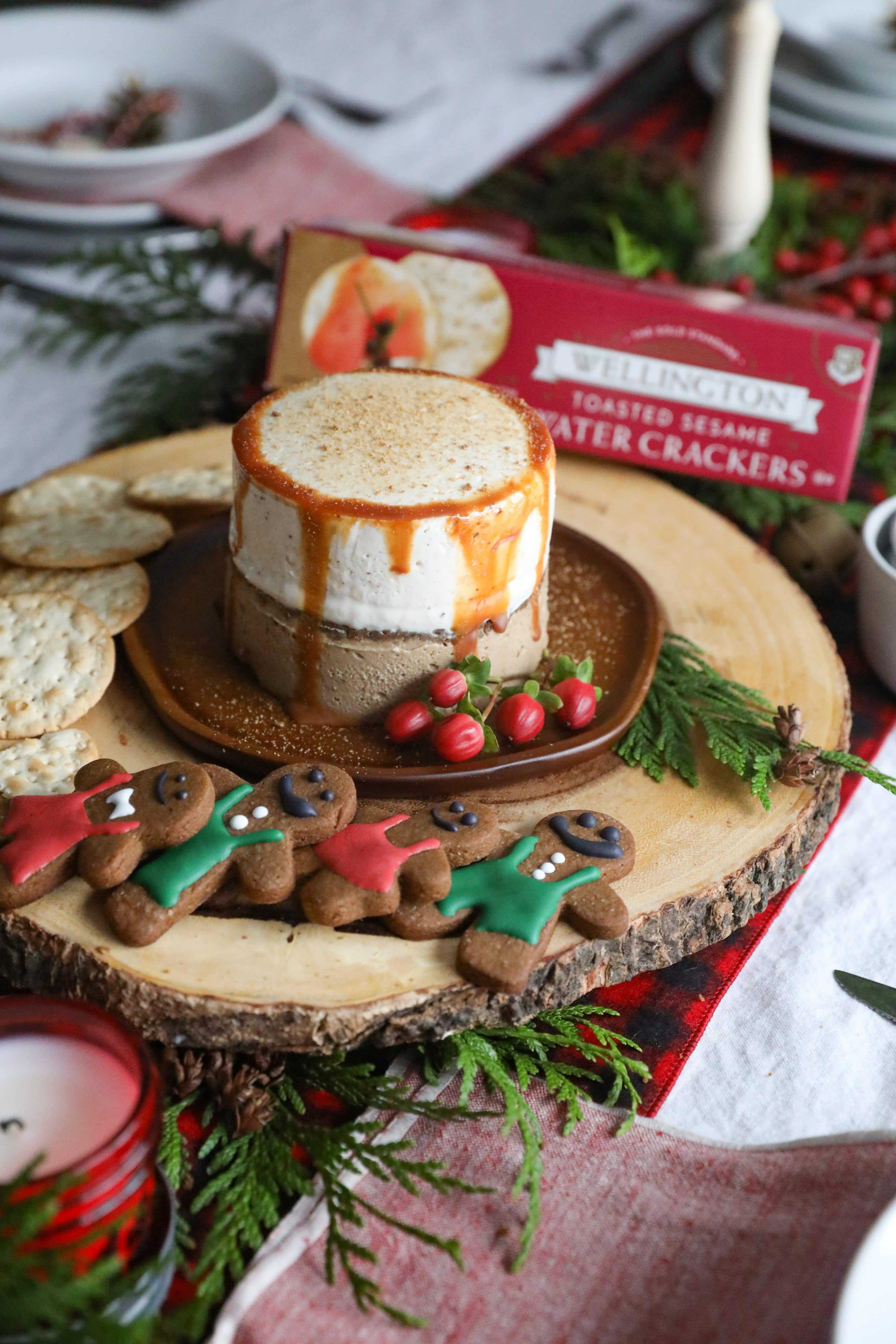 Gingerbread Cheesecake Stack
Takes , serves 4.
Ingredients
(1) 8oz pkg. Cream Cheese
½ Cup Brown Sugar
1 ½ Teaspoon Ground Ginger
1 Tablespoon Molasses
2 Egg Yokes
2 Tablespoons Ginger Snap Crumbs (to go on top, not mixed in)
4 Oz Cream Cheese
½ Cup Heavy Cream
1/3 Cup Powdered Sugar
½ Teaspoon Vanilla
1 Teaspoon Cocoa nibs or chopped dark chocolate
Instructions
For the Gingerbread Cheesecake Layer
Using a blender, cream together the Cream cheese and brown sugar. Blend until smooth, and no lumps remain. Add in the ginger, cloves and molasses and mix to combine, and then gently add the yokes to incorporate.
Transfer the mixture to a double broiler, or place a metal bowl over a pot of slow boiling water. Stir frequently, until the mixture coats the back of a spoon.
Pour the cream into a 4.4" mini springform pan. Top with a layer of ginger snap crumbs, gently pressing them into the cream below, and place in the freezer to chill.
For the Cream Cheese Mousse
Pour the heavy cream in a mixing bowl. Mix on medium speed until it becomes stiff whipped cream, and set aside.
Next, cream together the powdered sugar, cream cheese and vanilla. Mix until creamy, and no clumps remain.
On medium speed, combine the whipped cream and cream cheese. Once combined, gently fold in thecocoa nibs or dark chocolate. Pour into a separate 4.4" mini springform pan and place in the freezer to chill.
If frozen, it's easier to remove from the pan than if it were just chilled in the refrigerator. When ready to serve, remove from spring form pans, stack one layer on top of the other and serve chilled.
Top with the optional caramel sauce and gingersnap crumbs.
Alternatively, to save you time and energy, or if you simply don't have a mini springform, you can coat a metal bow with plastic wrap, pour in the gingerbread cheesecake layer, cover with gingersnap crumbs, and then pour the cream cheese mousse over that, making sure the gingerbread cheesecake layer is cool before pouring the mousse on top.
Place in the freezer until firm. Turn the bowl out over a plate and remove plastic wrap. Serve chilled.