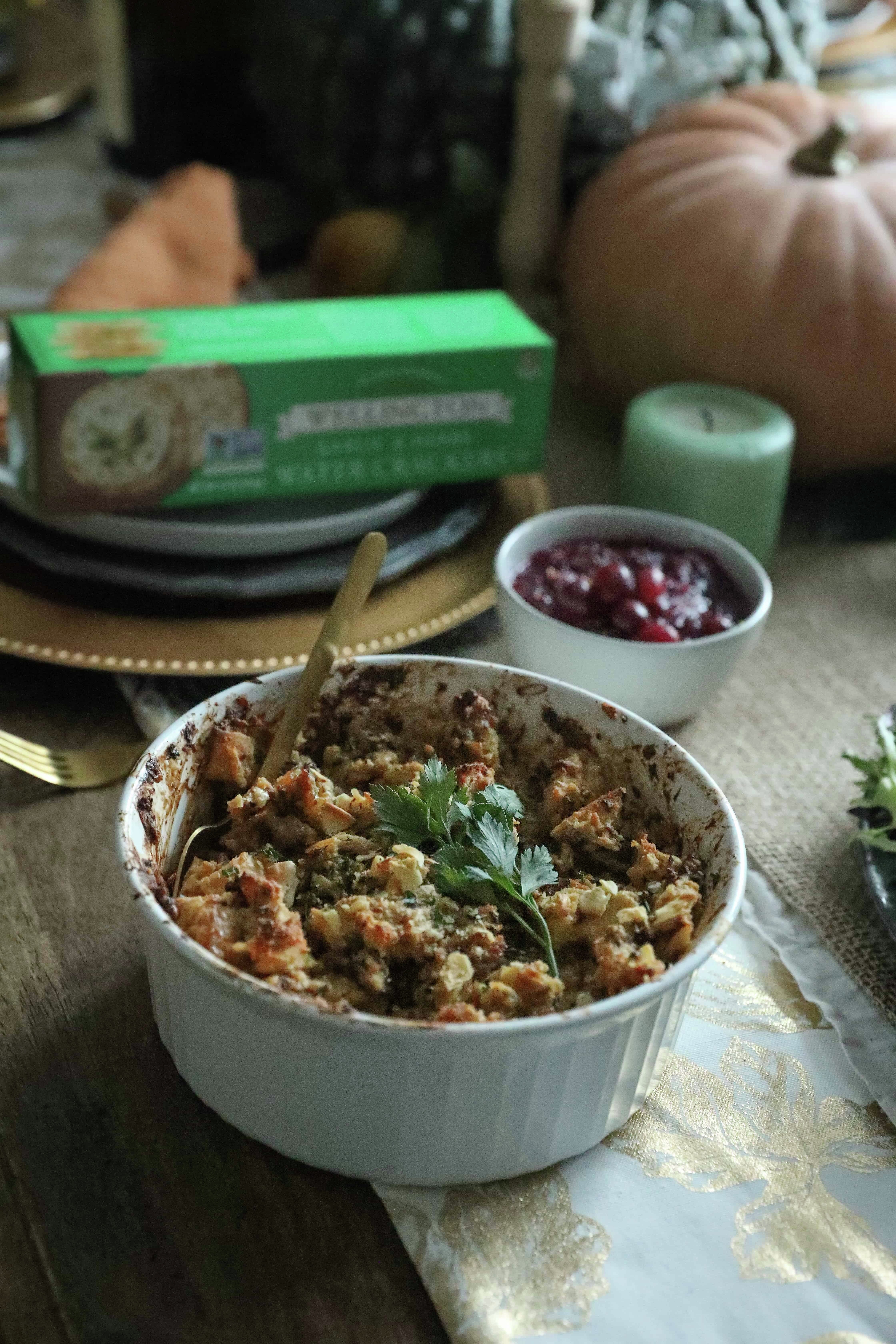 Garlic and Herb Cracker Stuffing
Takes , serves 6.
Ingredients
1 Cup Wellington Garlic and Herb Cracker Crumbled, 3.5 oz
8 Ounces Italian Seasoned Ground Pork
6 Ounce Firm French Baguette Cubed
8 Ounces Chopped Mushrooms
1/2 Medium Onion, 4 oz Diced
1/2 Cup Fresh Grated Parmesan
1 1/4 Cup Unsalted Vegetable or Beef Broth, 10 oz
1/2 Cup Sour Cream, 4.5 oz
2 Cloves Pressed Garlic
1/2 Teaspoon Salt
1/4 Cup Chopped Parsley
Instructions
In a bowl, combine the baguette and crackers
In a skillet, brown the ground pork. Once cooked, pour it over the breadand crackers in the bowl.
in the same skillet, sauté the mushrooms in the remaining grease fromthe sausage. Once cooked, pour the mushrooms out over the cookedsausage in the bowl.
Lastly, sauté the onions in the same skillet, adding the cooked onions tothe bowl with the sausage and mushrooms.
Add the chopped parsley, 1/2 cup parmesan cheese, two cloves garlicand 1/2 sour cream to the bowl.
Season 1 1/4 cups of vegetable broth with 1/2 teaspoon salt and pour itover the bowl containing the remaining ingredients. Stir together tocombine.
Place the prepared stuffing in an oven-safe baking dish and bake at 350degrees for 30 minutes or until slightly brown on top.