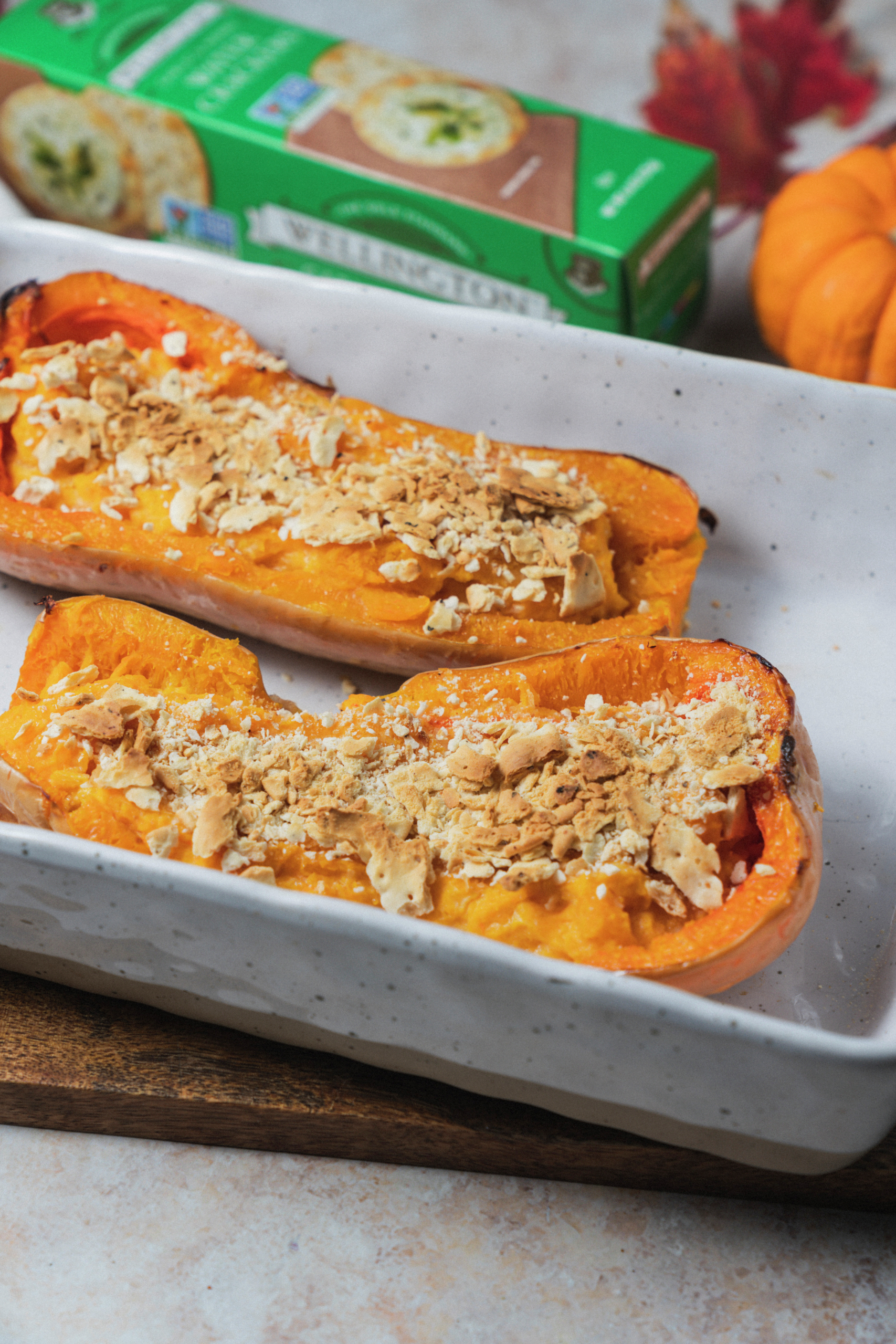 Cheesy Stuffed Butternut Squash
Takes , serves 2.
Ingredients
2 medium sized butternut squash, halved lengthwise and seeds removed
1/2 tsp kosher salt
1/4 tsp black pepper
1 tbsp fresh sage, chopped
2 tbsp plain nonfat greek yogurt
2 oz goat cheese
1 tsp extra virgin olive oil
1 box Wellington Garlic & Herbs Crackers
Instructions
Preheat the oven to 450 degrees.
Line a baking sheet with foil and spray it with cooking spray.
Place the halved butternut squash cut side down on the baking sheet and cover completely with another piece of foil.
Bake the squash for 40-50 minutes or until a fork inserted into the flesh comes out easily.
Remove the squash from the oven, lower the temperature to 425 degrees, and let the squash cool slightly.
Using a spoon, scoop the flesh out and leave a 1/4 inch border around the squash halves so they will hold their shape.
Discard one of the squash skins so that you have a total of 3.
In a large bowl mash together the squash flesh, salt, pepper, sage, Greek yogurt, and goat cheese.
Once everything is combined, spoon the squash mixture back into the 3 skins.
Add Wellington Garlic & Herbs Crackers to a ziplock bag. Crush with a rolling pin until crushed. Top the squash with the crushed crackers and drizzle with olive oil.
Place the squash back in the oven and bake for another 10-15 minutes or until the mixture is heated through.