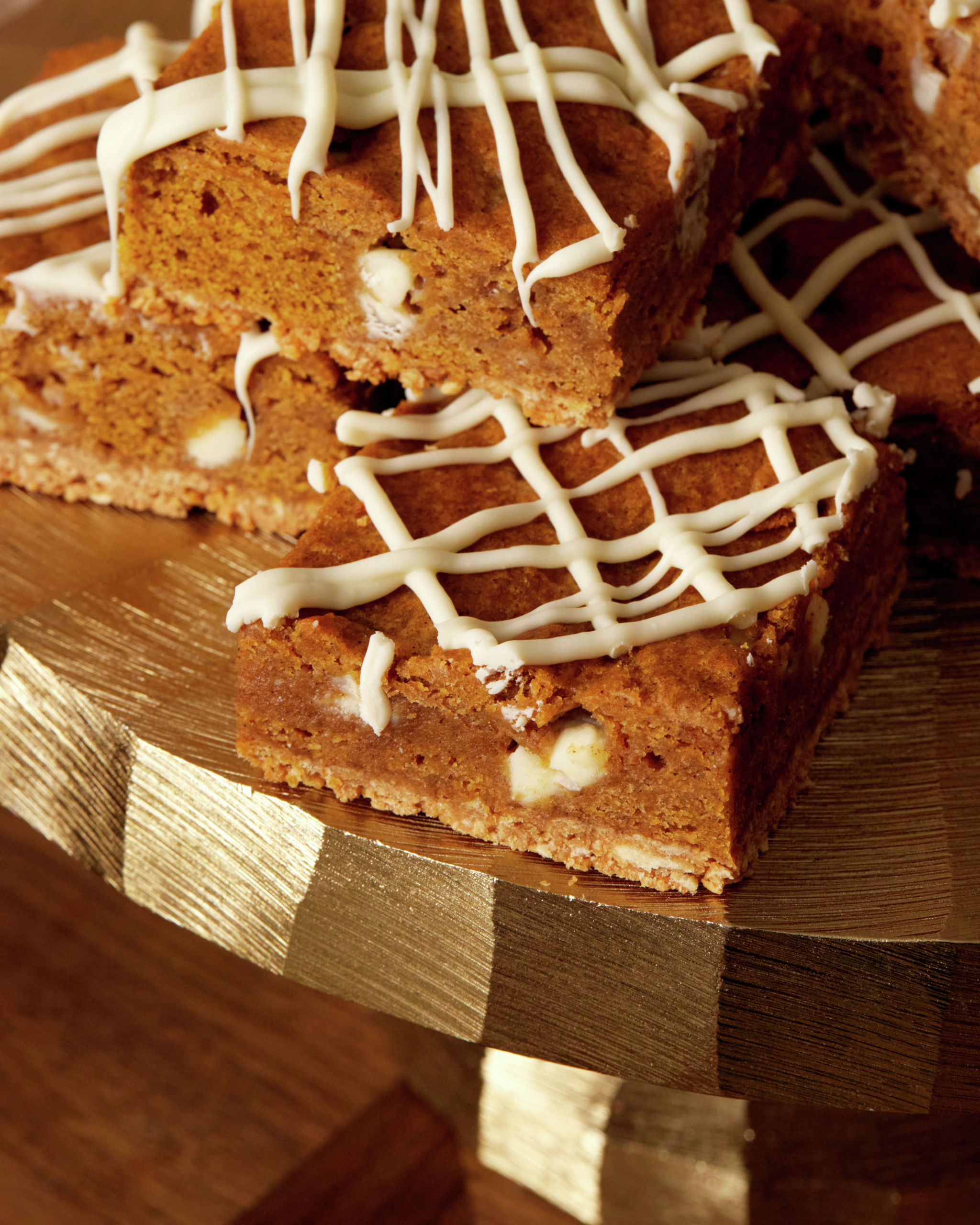 Brown Butter Pumpkin Bars with Cracker Crust
Takes , serves 4.
Ingredients
For Crust:
1 ½ sleeves of Wellington Traditional Water Crackers
2 tablespoons melted butter
½ cup packed dark brown sugar
2 tsp pumpkin pie spice
2 egg whites
For Pumpkin Bar Topping:
1 can of pumpkin puree*
2 sticks melted butter
¼ cup maple syrup
1 cup dark brown sugar
1 tablespoon vanilla
2 eggs
2 ¼ cups flour
1 teaspoon baking powder
½ teaspoon baking soda
1 teaspoon kosher salt
1 tsp pumpkin pie spice
2 tsp cinnamon
½ tsp ginger
1 cup white chocolate chips
Optional: melt the remainder of the bag of white chocolate chips and drizzle on top of cooled bars
*Scoop pumpkin into a double layer of paper towels, gently squeeze to remove moisture. Be careful not to squeeze too hard as you will rip the paper towel. Final measurement of the pumpkin should be about ¾ cup
Instructions
Preheat oven to 350 F.
Add Wellington Traditional Water Crackers to a food processor and pulse until you get coarse crumbs, don't go too far! You don't want it to be a fine powder.
Add melted butter, brown sugar, pumpkin pie spice, and egg whites and mix until you get a cohesive dough. You should be able to pick up a handful of the crust mixture and squeeze it with your fingers and without it falling apart.
Grease a 9×13 pan with cooking spray and a layer of parchment paper. Don't skip this step as it will help you to lift the bars out of the pan once cooked!
Add the crumb crust mixture to the pan and press down into an even layer. Pack it down tightly!
Bake the crust at 350 F for 15 minutes or until the edges just begin to brown. Then let the crust cool while you mix the filling.
In a large bowl, mix together the pumpkin, butter, maple syrup, brown sugar, vanilla and eggs until smooth.
Add flour, baking powder, baking soda, salt, and spices to the pumpkin mixture and stir until combined.
Mix in white chocolate chips.
Once the crust has cooled to a warm room temperature, add the pumpkin mixture to the pan. Spread out into a smooth layer.
Bake at 350 F for 20-25 minutes. Tops of the bars should be dry and spring back when you touch it. A toothpick should come out clean.
Let the bars cool in the pan to room temperature and then chill in the fridge for an hour or two. This will make cutting them much easier!
Using a large knife, cut the bars into ~2.5 inch squares. You should get 15 bars.
Melt the leftover white chocolate chips and drizzle on the cut bars.
Enjoy!